Asiana Airlines

Main FactsEdit
Headquarters Seoul/ICN International Airport, South Korea
Primary Hub Seoul/ICN International Airport, South Korea
Secondary Hub Nagasaki Omura Airport, Japan
CEO foodcrazyboy
Fleet Size 3
Destinations 6
Alliance ~Wings of Asia~
Asiana Airlines, was created on January 16th,2009 in Seoul, South Korea. Its CEO and owner is Korean business tycoon foodcrazyboy.
Asiana Airlines currently operates 3 Turbo-prop type aircraft. The aircraft operates 2 ATR-72-500s, and 1 Bombardier Dash Q400
DestinationsEdit
Asiana currently operates 6 routes, 3 in Japan, and 3 in the People's Republic of China
Alliance membershipEdit
Asiana is a ~Wings of Asia~ Alliance member with Bendale as CEO of the alliance.
Asiana currently has a code share agreement with:
Asiana serves special meals on China flights only. This includes Korean, Japanese, and Chinese cuisine.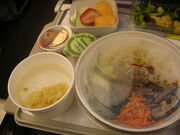 IncidentsEdit
There are no fatal or near fatal incidents regarding Asiana aircraft. They have a perfect safety record.
Ad blocker interference detected!
Wikia is a free-to-use site that makes money from advertising. We have a modified experience for viewers using ad blockers

Wikia is not accessible if you've made further modifications. Remove the custom ad blocker rule(s) and the page will load as expected.