Main FactsEdit

Headquarters Jomo Kenyata Airport, Nairobi, Kenya
Primary Hub Jomo Kenyata Airport, Nairobi, Kenya
Secondary Hub Moi International Airport, Mombasa, Kenya
CEO Zuma
Fleet Size 1
Destinations 1 (Charter Flights only)
Alliance ~Wings of Asia~ CEO: Bendale
Kenya Airways is a Kenyan airline based in Nairobi, Kenya with the a Secondary Hub in Mombasa International Airport. The airline is headed by CEO Zuma, The airline currently operates 1 Boeing 737-700 and serves Charter Flights to Africa and Asia.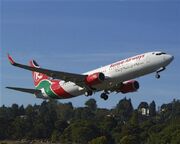 As of January, 2009 Kenya Airways operates 1 Boeing 737-700. With a Possible order for more in the next months to come.
Links: ~Wings of Asia~.
Ad blocker interference detected!
Wikia is a free-to-use site that makes money from advertising. We have a modified experience for viewers using ad blockers

Wikia is not accessible if you've made further modifications. Remove the custom ad blocker rule(s) and the page will load as expected.